Spring cleaning season is officially upon us, so what better time than now to think about what are truly the best organizing and cleaning products we've ever tried?
From Magic Erasers to compression bags, these are the cleaning and organizing products we trust and use to get our homes spotless year-round.
† Stephanie Griffin, senior digital content strategist
$13.53 at Amazon
I have too many clothes and not enough space. To free up some room in my closet, I started putting clothes in vacuum bags, and they make a huge difference. They're great for organizing and storing seasonal clothes. Pro tip: I use smaller ones in my luggage when traveling, and it saves so much room!
† Lindsey Smith, associate editor
$22.99 at Amazon
This organizer kit comes with a number of cable clips, ties and sleeves — so many that I haven't even used all of them yet — to keep the eyesore of tangled wires and cords out of sight. The larger box fits a standard power strip and is spacious enough to keep two laptop chargers coiled within, along with a phone charger and a couple other cords that I keep fed through the top holes for easy access. I use the smaller one to store spare chargers, headphones and other small tech cords.
† Sophie Shaw, associate beauty editor
$39.89 at Amazon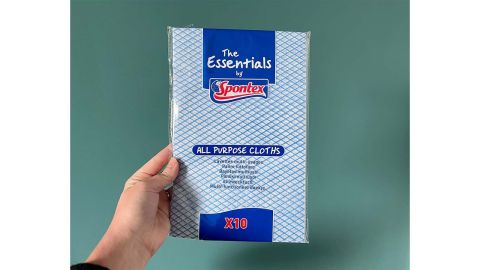 I'm absolutely obsessed with these all-purpose cloths. They're the perfect tool for cleaning — whether that's in the kitchen (à la Swedish dishcloths) or in the bathroom, these versatile cloths are a must-have in any house. They can be used wet or dry and are a great alternative to wasteful paper towels. After a few uses, throw it in the bin and grab a new one. Trust me, you'll love them.
† Emily McNutt, senior travel editor
From $34.99 at Cloud Paper or from $39.99 at Amazon
These eco-friendly paper towels have become my go-to for cleaning every single surface in my home. The packaging is 100% plastic free, recyclable and compostable, and each roll comes with 150 sheets. It looks much smaller than regular paper towels, but in my experience, it's just as soft and absorbent, and best of all, it never leaves behind any streaks.
† Stephanie Griffin, senior digital content strategist
$2 at Target
Rosanne Salvatore/CNN
My kitchen drawers used to all essentially look like junk drawers until I shopped Target's new organization line, Brightroom. I scooped up all different sizes of storage trays to hold all my odds and ends. The result is totally organized drawers that make it incredibly easy to find whatever you're looking for. And did I mention that these trays start at less than a dollar each?
† Rosanne Salvatore, deputy editor
$39.99 at Amazon
I have a rather large collection of perfumes, and these acrylic shelves were the solution to giving them a designated place that keeps them organized yet still in reach. I love the simplicity of the shelves, how easy they were to install (they come with screws and wall anchors) and that they look almost invisible.
† Sophie Shaw, associate beauty editor
$749.99 at Dyson and Best Buy
Not only is my Dyson vacuum incredibly lightweight and easy to maneuver with one hand, but it works so well that I genuinely look forward to vacuuming. The many different attachments make it easy to do pretty much any type of vacuuming I need to do, but my favorite attachment is the "Laser Detect" attachment that reveals microscopic dust. I have a super-dusty apartment, and this laser is truly the only way I can find dust in every nook and cranny.
† Hayley Saltzman, head of social
$65 at Away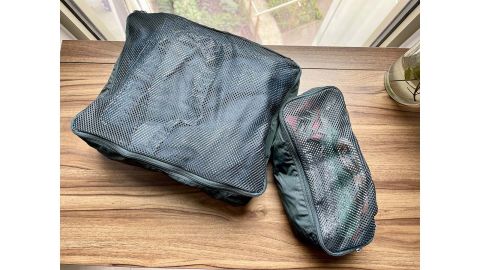 I am a total packing cube convert. In fact, I'm so obsessed with them that I now use them beyond my suitcase. I have one dedicated set of packing cubes that I use to store things around the house. For example, during winter, I'll store my summer shorts, shirts and bathing suits away, then swap them out for my winter clothes when the weather starts to get warmer. It's a great way to keep your clothes organized, especially if you live in a small space.
— Emily McNutt, senior travel editor
$31.32 $9.40 at Amazon
Like most people, the cabinet under my kitchen sink is a mess. I was getting frustrated trying to find the items I use most often, so I grabbed an over-the-cabinet hanging storage caddy and it solved all my issues.
† Lindsey Smith, associate editor
$4.29 at Target
This spray truly does it all. I use it to clean my bright white marble counters, my wooden TV console, the mirrors around my house, my Breville coffee maker, my dog's "accidents" and even my electric stovetop, which historically has been impossible to clean. It's formulated with clean and safe ingredients, and best of all, it smells like spring in a bottle.
† Stephanie Griffin, senior digital content strategist
From $5 at Urban Outfitters
I love these affordable little crates from Urban Outfitters, and I use them throughout my apartment to keep odds and ends a bit more organized. The blue one on my desk holds all of my hand creams and diffuser oils, and I have a white one in my kitchen to hold oils and spices. They add a cute pop of color, they're super easy to assemble and they can serve a million different uses.
† Hayley Saltzman, head of social
$11.47 at Amazon
I swear by the mr. Clean Magic Eraser. These things can get stains and gunk off of anything. I use them in the kitchen, bathroom, on the walls and even to clean my shoes. There is no mess or stain these can't tackle.
† Lindsey Smith, associate editor
$70 $52.49 at Amazon
While this may seem a bit pricier than other cleaning products at first glance, the device itself is refillable and all you have to purchase in the future is a refill capsule. I love that this product isn't just single use, and I'm an even bigger fan of the fact that it actually cleans well. It was one of the only products to remove a coffee stain from my carpet, plus it disinfects surfaces and it doesn't contain any toxic chemicals.
† Hayley Saltzman, head of social
From $26.99 at Amazon
The Swiffer Wet Jet is my go-to product when I need to clean my apartment floors. I swear by it because it really picks up absolutely everything and leaves my floors looking clean and shiny.
— Tyler Holender, social media intern
$5.94 at Walmart
I'm prone to dropping food on myself, and Grandma's Secret Spot Remover is my holy grail. Don't let the cheap price fool you; this stuff is seriously the best. One little spray will make any stain disappear. It also works incredibly well on makeup stains too.
† Lindsey Smith, associate editor
$32.99 $28.99 at Amazon
My bathroom cabinets were a disaster before I bought these truly game-changing stackable drawers from Amazon. They've helped me maximize the space underneath my bathroom sink, and they're deceivingly spacious, so I am able to categorize and store every single one of my makeup products — and not to mention actually find them now too. Marie Kondo who?
† Stephanie Griffin, senior digital content strategist
$269 at Amazon
When my husband and I moved into a new apartment and set up a shared home office, we quickly realized we needed some office organization solutions. This Poppin cabinet is pretty and happy enough that it adds some style to the space but functional enough that it makes our office feel a bit like a real workplace. We share the file cabinet and then use the top drawers for other random office supplies. We both love it.
† Hayley Saltzman, head of social
$16.99 at Honest
The Honest Company Liquid All-Purpose Cleaner is my go-to for kitchen cleaning. The formula is versatile and can be used on myriad surfaces. It cuts through grease and grime but is gentle enough on more delicate surfaces. I've held on to discontinued bottles of my favorite scent, but the brand recently swapped to refillable containers.
† Lindsey Smith, associate editor
$29.99 $21.99 at Amazon
I used to hate having all my shower essentials on the ground and having to frequently step over them to get in and out of the shower, so this organizer has been game-changing. They're now on the wall, which makes it ultra easy to grab what I need and keep everything else out of the way. The adhesive is also super strong and won't come off.
† Tyler Holender, social media intern
$9.55 at Amazon
When I was younger, I never understood my mom and grandma's obsession with steel wool. Once I got a place of my own, I realized why they raved about them. I almost tossed some of my favorite pots and pans because of how stained they were, but a quick clean with these makes them look brand new.
† Lindsey Smith, associate editor