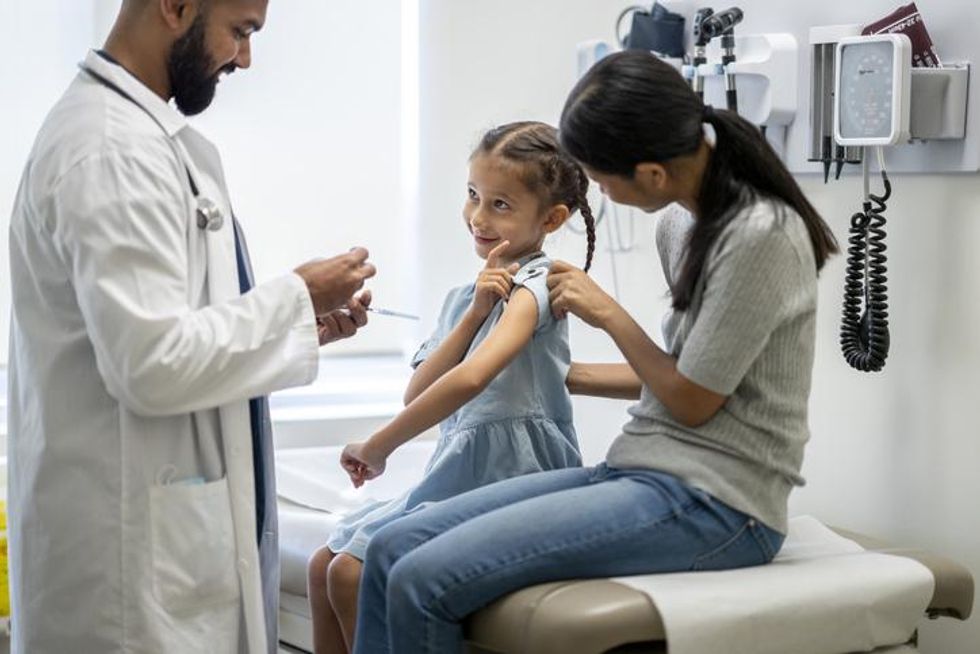 Eleven years ago, Kristen O'Meara was hesitant to vaccinate her newborn daughter. "I was suspicious," O'Meara recalled. "I've done a lot of anxious hand-wringing."
O'Meara, director of special education at a charter school in Chicago, said she began her online research with questions prepared to find answers that reflected her bias. "I got to thinking, 'Let's see how dangerous these really are.' And, 'What aren't they telling me in the mainstream media?'" O'Meara said. "If you Google 'Why are vaccines dangerous?' down the rabbit hole you go."
The answers O'Meara found online on websites and blogs written by conspiracy theorists fueled her fears and seemed compelling enough to at least delay vaccinating her daughter and two years later, her twin girls. "I've never sat on a soapbox. I said, 'Let's suspend this. If there's something bad, we'll think about it," O'Meara said. "I can always vaccinate them later, but I can't undo them."
But in the spring of 2015, when her daughters were 3 and 5 years old, it later became too late. O'Meara's household was struck by a severe, long-lasting stomach virus. Her pediatrician diagnosed them with rotavirus, a disease that can lead to dehydration, hospitalization and even death. There is no treatment for it, but there is a vaccine to prevent it.
Fortunately, the family returned to health without complications, but the experience prompted O'Meara to reconsider her stance on vaccines. She again researched vaccines, this time reading books by pediatrician and vaccine specialist Paul Offit and other immunology specialists. "I called my pediatrician and said, 'Okay. Put them on the catch-up schedule,'" O'Meara said. "Let's just do this."
Jessica Peck, a clinical professor of nursing at Baylor University and immediate past president of the National Association of Pediatric Nurse Practitioners, has studied the psychological factors that influence vaccine beliefs and motivation. Peck said the reason for O'Meara's shift in viewpoint is one of the most powerful motivators for behavioral change in health care decisions.
"People have to believe they're susceptible," Peck said. "When people know they can be affected and the consequences will be severe, they are motivated to change their health behaviors."
Peck said medical misinformation online can seem very credible, but it's important to make sure you're using sites that don't have commercial bias. "The National Library of Medicine has a great tutorial on evaluating medical information to see if it's credible or not," she said.
Vaccines, Peck said, aren't approved until they've been thoroughly tested in studies and then reviewed by the U.S. Food and Drug Administration (FDA), but the vaccination schedule has not been established by the FDA. "Just because it's FDA-approved doesn't mean it's routinely recommended for pediatric use," Peck said. The Centers for Disease Control and Prevention (CDC) has an independent advisory board that reviews evidence from the clinical trials and the FDA to determine whether a vaccine should be routine or recommended for certain populations. Then major nonprofit health organizations, such as the American Academy of Pediatrics, choose whether to endorse it. These organizations, Peck said, have their own lengthy, multi-layered review processes before recommending a vaccine for pediatric use.
"Science is an ethical profession," Peck said. "We share what we know as we know it."
But in recent years, so much has been unknown due to the pandemic.
According to Peck, the best source for vaccine information is not what you read, but who you trust. "Talk to a primary care provider you trust and respect. Collaborate with them in decision-making."
Today, O'Meara's girls are vaccinated, but due to the pandemic, they are getting their flu shots too late. "Going to the doctor for routine things comes on the back burner during a pandemic," O'Meara said.
O'Meara is not alone. Vaccination rates dropped as a result of the pandemic, Peck said, for many reasons. One was accessibility: some pediatric practices were closed, as were health centers in schools. In addition, parents were afraid to go to the pediatrician's office. Peck thinks kids were scared too, but for different reasons. "Our personal protective equipment made us look scary to kids," Peck said. "And there was a restriction for visitors, so there was less support for patients."
Parents not only lagged behind on vaccines due to care interruptions, but also lagged behind well-child trials, which can cause its own problems. "It's so important to schedule those visits to keep babies informed about their physical exams and to make sure they meet their developmental milestones," Peck said.
While immunization levels are rebounding, Peck estimates it will take about five years to catch up to pre-pandemic levels of immunization and the overall health and well-being of children.
"Vaccines," Peck said, "are safe, reliable and a marvel of modern medicine." The list of immunization successes is long. "They eradicated polio. And before there was a vaccine against measles, there were half a million cases every year. Hundreds of children died of chickenpox every year," Peck says.
"We know that vaccines are the most effective way to prevent diseases that can be debilitating or fatal."
For a vaccination schedule for your child, see the CDC's Recommended Immunization Schedule or contact your child's healthcare provider.
This resource was created with support from Pfizer Inc.
From your site articles
Related articles on the internet