During the second confrontation between Scott Morrison and Anthony Albanese, the men got into heated discussions about national security, anti-corruption commissions and climate change.
Most important points:
The final viewership results showed that neither leader won the debate, with a split of 50/50
Both leaders interrupted, intervened and spoke at once, the moderator and panelists
Morrison admitted he shouldn't have said the vaccine rollout was "not a race".
Organized by Channel Nine, the debate covered a wide range of topics with questions posed to each leader by a panel of three journalists.
Unlike the first debate, Sunday night's event was considerably more fiery and included a number of occasions where one or both men shouted at each other, the moderator or the panelists.
As for who won, the result was unclear. Channel Nine's viewership poll changed from 52 percent for Morrison to 51 percent for Albanian, eventually reaching a 50/50 split.
A question about national security and the controversial security agreement between China and the Solomon Islands sparked one of the longest altercations of the evening, with moderator Sarah Abo or journalist Chris Uhlmann unable to successfully interrupt and refocus the debate.
Morrison was asked what he would do if his "red line" was crossed and China began building a military base in the Solomon Islands.
After Abo told him it seemed like people didn't quite understand what the red line was, Mr Morrison said he thought Australians understood the government would work with others to ensure "that kind of outcome would be prevented".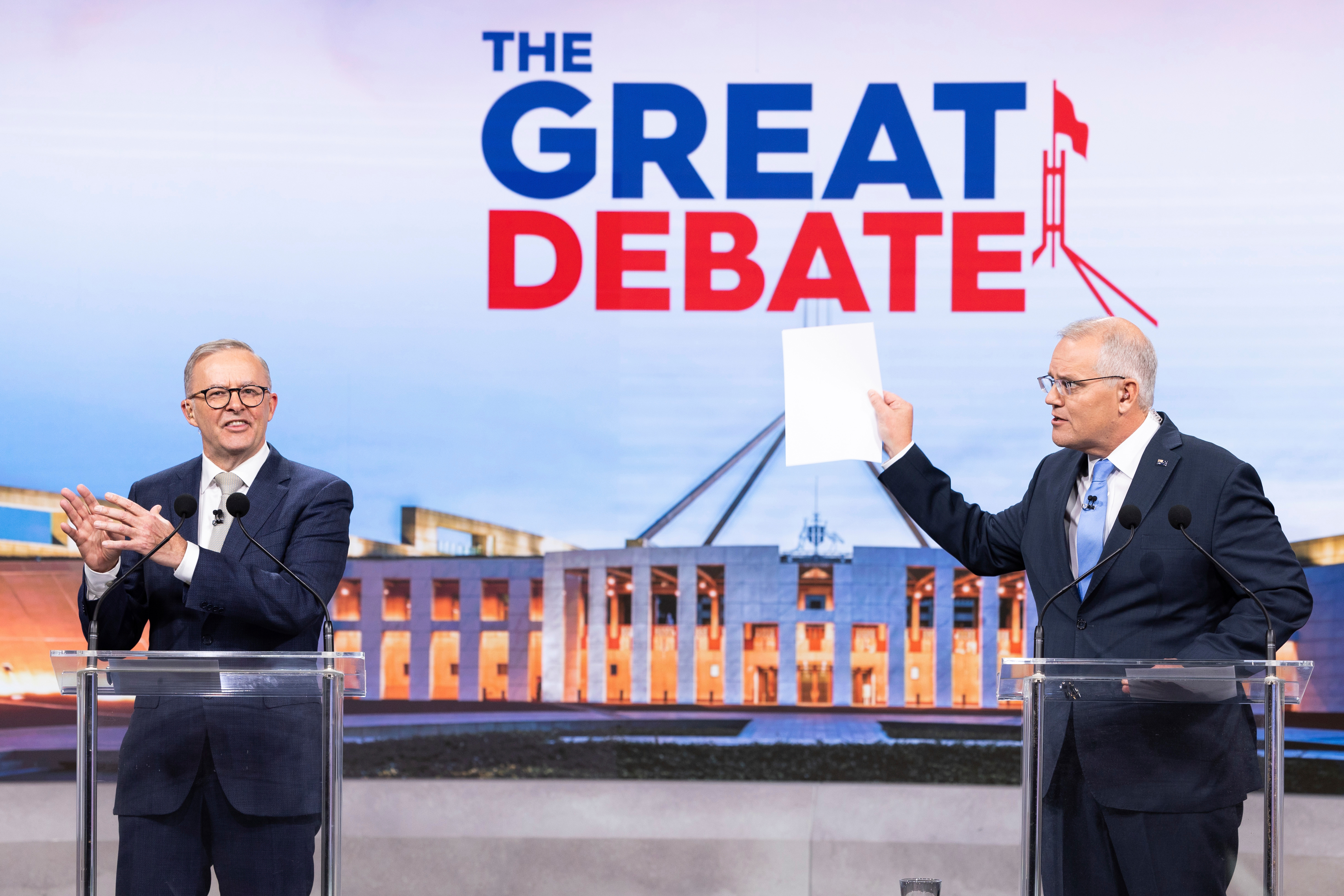 Mr Albanese intervened, describing the deal as a "mass foreign policy failure" before Mr Morrison interrupted and asked "why have you cut defense spending?"
The opposition leader replied:
The remark sparked a lengthy shouting match with both men talking at once, with Mr Morrison saying the federal government had no hand in the lease of the port and Mr Albanese saying the government allowed it to happen within the Northern Territory.
The prime minister later returned to a familiar line and questioned Deputy Labor leader Richard Marles' public comments about China in recent years, saying "he takes his speeches beyond the Chinese government".
Another topic that has been a fiery back and forth has been the discussion about public trust in politics and what both sides are proposing when it comes to an anti-corruption commission.
Mr Albanese criticized Labour's proposal for an anti-corruption commission that would hold public hearings for all parties, including politicians, while Mr Morrison questioned why the party had never tabled a bill for private members and drafted its own legislation.
The coalition has consistently blamed Labor for the lack of action against a commission during the last term, demanding the opposition express support for its bill before it is presented to parliament – despite not taking that approach with a series of other pieces of legislation during his three terms in government.
While there were a number of other awkward moments, a segue by Mr Albanese on Labor's energy plan also raised lofty voices and turned the debate into what at times felt like a full-blown argument.
Questions to each other
Both leaders were also given the opportunity to ask each other two questions.
On Mr Albanese's first question to Mr Morrison, the Prime Minister made a rare concession over his management of the vaccine rollout.
The opposition leader asked Morrison about his comments that the rollout was "not a race" and whether he accepted that "it was a race and you should have gotten vaccines sooner?"
"It was a race, Anthony, and we shouldn't have described it in those terms," ​​Morrison replied before going on to defend the government's action and decisions throughout the remainder of the rollout.
Morrison then asked Mr Albanian how Australians could believe "you are for them now" given he and Labor's shifting attitudes to policies such as negative gearing.
"I supported the Labor Party in the last election," replied the opposition leader, saying the party had restarted its policies after the election defeat in 2019.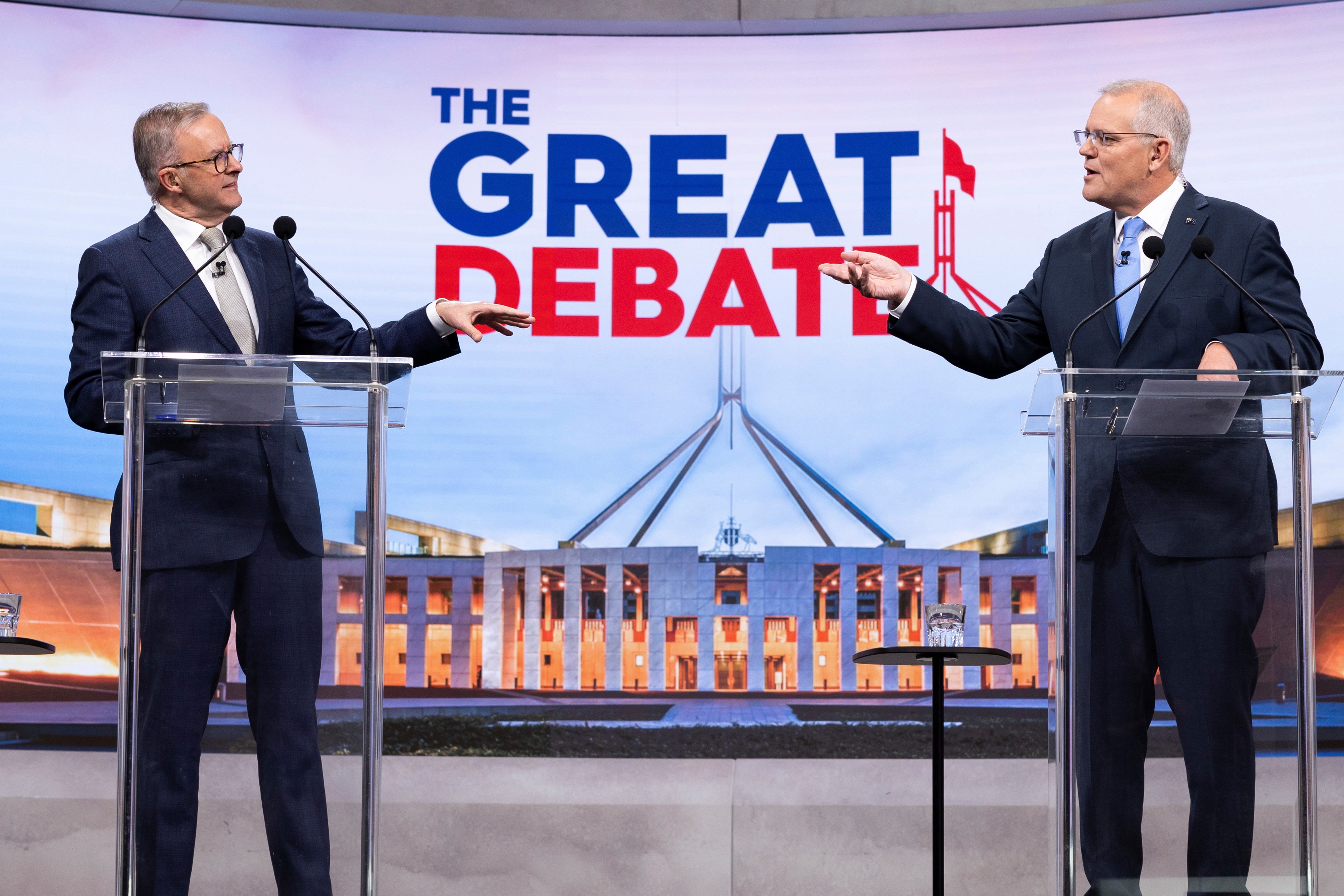 The opposition leader also asked Morrison if he thought all Australians should get at least the minimum wage.
"Well, it depends on whether they're running a business or not. I mean, if you're running a business, I can tell you who isn't necessarily getting minimum wage — small business owners if the money isn't coming in."
When asked about people in the gig economy who didn't get minimum wages, Morrison replied, "They work for themselves, that's why they do it."
Mr Morrison's second question to Mr Albanese was about Labour's recently announced Shared Housing Plan and why it was designed so that once people make more than $120,000 people will have to repay the government's interest in the property.
"You know what happened in the design of the scheme? It's based on schemes that actually work, based on schemes that actually work."
It sparked another spat between the two leaders, with Mr Morrison interrupting Mr Albanese's reply and sparked a joke from panelist and journalist David Crowe that "this is why journalists get so frustrated when people don't answer the question".
The debate also touched on issues surrounding the treatment of women in parliament and failures in aged care, while both leaders ruled out an extension of the fuel tax cut beyond September.
Loading
Loading form…
Posted † updated