Anthony Albanese has redoubled his stance on wage growth, saying he stood by his comments yesterday that he wanted the national minimum wage increase to meet 5.1 percent inflation.
When asked if he "hadn't jumped the gun" when he supported the turnout at a press conference in Melbourne on Tuesday, Albanian replied "not at all" as he faced the press in North Sydney this morning.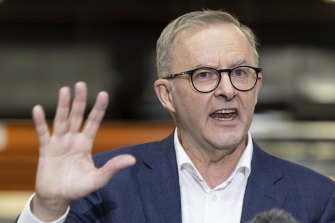 "We ran a cost of living campaign every day during this campaign, and one of the themes of our campaign, including at the launch of the campaign, was 'no one left behind,'" Albanian said.
"What we're talking about here is the conditions where people are going to have a really hard time right now, they're sitting at $20.33 an hour. $20.33 an hour. Those people aren't going to benefit from the tax cuts that are coming. They're sitting at $20.33 per hour.
"When I came up during the debate on Channel Nine on Sunday evening, I was asked two questions for the Prime Minister. I prioritized the issue of 'Should Australians get at least the minimum wage?' He couldn't agree with that."
He also referred to his speech last week to the Australian Chamber of Commerce and Industry, in which he said productivity was the key ingredient.
"What I was talking about was bringing unions and companies together for common interest to work together for that common interest," he said.
"I'm the Labor leader, but I'm surprised this isn't a two-pronged issue because this is a government that was willing to go back, made a budget recently, made changes to gasoline, gave them $250, did they all these cost of living and said there was a cost of living crisis."