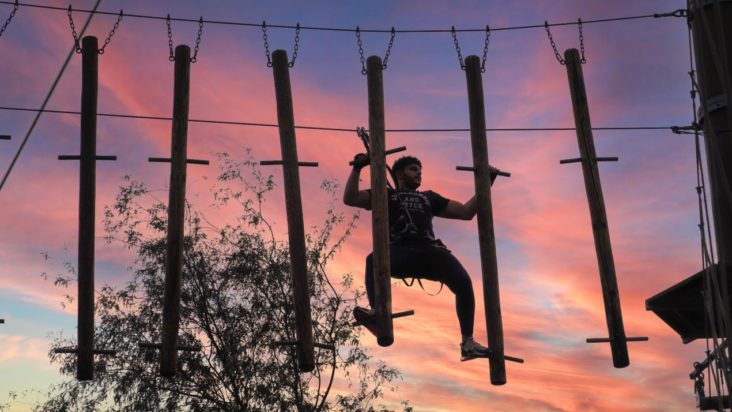 Challenge your teams, friends or colleagues to distinctive corporate programs at Aventura Parks. Dubai's ultimate adventure park offers many unique programs that will set your mind free this summer, ensure fun and enhance personal and group performance through special activities. Its unique location, unique features and expert team building programs make the park an innovative and inclusive destination where teams can reconnect, engage in group activities, build trust and spend some quality time together. Open during the evenings, groups and teams can enjoy the experience in a fully lit park from 5pm to midnight daily.
Adventure Park Fun
The first of three programs offered, Adventure Park Fun consists of three hours of fun in the open air. Occupying 35,000 square feet, the corporate evening features more than 80 activities and 24 ziplines. Upon arrival, they are greeted by the Aventura team and guests can venture to circuits such as: Explorador, Thriller, Aventura and Extreme – these four exhilarating experiences will allow you to bond with nature and teammates, guaranteeing an unforgettable experience allowing you look at it differently. your colleagues. The program costs AED 125 per person and is open to groups up to 220!
Aventura matches
No fitness is required, and yet this program is a workout in itself. This action-packed agenda costs AED 200 per person and brings the team together through fun and fast-paced challenges. It also includes access to a fully air-conditioned private tent. Aventura competitions include 1.5 hours of competition and 2.5 hours of daring and thrills in the adventure park. This program is best for teams of 20-200 people.
Aventura Spirit
†Aventura Spirit" is a special team building program designed to educate and challenge the status quo based on custom objectives. With welcome drinks, facilitated team building, and access to a fully air-conditioned tent, this option includes problem-solving, powerful commands, and active collaboration. Prices at AED 300 per person, Aventura Spirit will bring out the spirit in you with 1.5 hours of facilitated team building activities and 2.5 hours of Adventure Park fun. Ideal for teams of 10-80 people.
These business programs are a great way to engage your team outside of the office, build better bonds that will transfer to work, and increase team efficiency. Post-pandemic stress is real, and as we all learn to live in a new reality that balances our mental health and work, there's no better way to relieve the stress than by reconnecting with people in nature.
For other business packages, more information about the park offers and tickets, or to book, go to www.aventuraparks.com or stay tuned on social @adventure parks†