One of Sydney's signature pubs, Bar Broadway, formerly known as Sutherlands Hotel, in the inner-city suburb of Chippendale, has hit the market for the first time in two decades with price estimates of around $45 million.
The long term private owner of the property has joined with the leaseholder in the sale of the site which offers development potential and is at the heart of the development of Central Park, Sydney's new "Silicon Valley" and Chinatown.
It has a long history as a Tooth and Co pub and has been known over the years as the Westminster Hotel, Guys & Dolls Hotel, Sutherlands Hotel and most recently Bar Broadway. It is sold through JLL hotel and Knight Frank.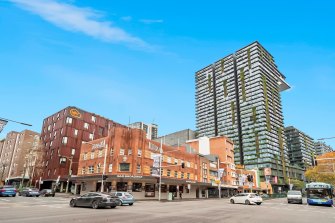 "Recent sales of the nearby Crown Hotel, Courthouse Hotel and Kinselas Hotel for an average yield of 5 percent — none of which had comparable business watersheds to Bar Broadway — provide insight into the quality of this opportunity," director Mike Knight Frank . Wheatley and JLL Hotels' John Musca said.
The pub is offering a new owner a 24-hour hotel license with 28 slots, a bar and two floors of 36 accommodation beds. There is the possibility to develop two additional floors, bringing the bed inventory to 63.
"I can't remember the last time a hotel with such explosive and broad business motives was offered to the market," Musca said.
The property is coming to the market at a time when the Sydney hotel market continues to show a high degree of liquidity. There have been over $1 billion in pub hotel transactions in the past 12 months and the industry has an unrelenting appetite for capital.
Across the Queensland border, a new independent pub venture led by Peter Filipovic, former CEO of Carlton & United Breweries, new CEO of HTL Capital, and Patrick Ryan of Ryan's Hotel Group has completed its first acquisition, bringing a major hotel in South East of Queensland.
The purchase price has not been disclosed but would be between $11 million and $12 million.