Prime Minister Scott Morrison and opposition leader Anthony Albanese have clashed over how best to tackle the rising cost of living, foreign policy and their perceived shortcomings.
In the second leadership debate, Albanian was asked about his failure to clearly define his own party's NDIS policies, while Morrison was caught red-handed when Nine's political editor Chris Uhlmann listed people on the prime minister's own side of politics who "don't liked" " him.
uhlmann, 60 minutes reporter Sarah Abo, 2GB host Deborah Knight and chief political correspondent for The Sydney Morning Herald and The age David Crowe weighed in on the debate.
Uhlmann said the fact that the leaders were so fervent in their confrontations showed that they were engaged.
"I've been on these things before when the leaders looked straight ahead and gave short speeches and didn't take any chances at any point," he said.
"I thought Anthony Albanese, who is clearly leading at this stage, might go without risk, and in fact he started the banter between the two of them, and at some stages he did it really willingly."
After the first commercial break, the panel also discussed Abo's arduous job as a moderator trying to argue with the two leaders who were yelling at each other.
"You needed a whistle there!" Knight joked.
"Or a hammer, because they didn't listen. That speaks to the evening, they were really engaged," Abo responded.
In the end, those who voted decided it was a draw and neither leader had won the debate, but there were a number of other questions where there was a clear winner.
"Who do you think would be the better prime minister?" was one question.
Our poll of more than 50,000 people showed Anthony Albanese in the lead at 49 percent, with Scott Morrison at 46 percent and the rest undecided.
Halfway through the debate, we asked, "Which party do you think will win the election?"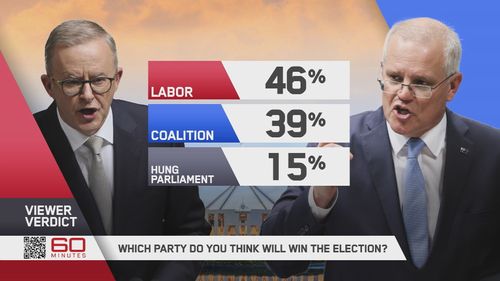 Labor came out on top with 46 percent of the vote, while 15 percent of people said there would be a hung parliament.
In the end, Labor was the preferred party of the votes on the website tonight.
Decided or not, which one will you vote for first?
Coalition – 44%

Labor – 50%

Other – 6%
Just choosing between the two major parties, which one are you more likely to vote for?
Coalition – 47%

Labor – 53%
Note: Reader polls are not scientific and only reflect the votes of readers who came to the site and chose to participate.