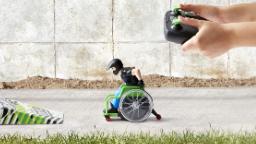 The toy was created in collaboration with five-time Wheelchair Motocross World Champion and Paralympic athlete Aaron "Wheelz" Fotheringham. Fotheringham, who was born with spina bifida and has been a full-time wheelchair user since he was eight, is known for performing elaborate tricks and backflips in his wheelchair.
The toy, available from toymaker Mattel on Amazon, is made to mimic Fotheringham's custom wheelchair and features a built-in action figure that resembles him, a remote control, and a ramp so users can perform tricks as he does.
For Fotheringham, the partnership is a dream come true. "Growing up, I didn't have anything like that," the athlete told CNN. When the toys were launched, he saw children, including wheelchair users, "having fun" with the toys. "You could see their faces light up a bit," he said.
Fotheringham's wheelchair motocross career started with a visit to the skate park when he was only 8 years old. His brother suggested that he try to fall into the skating rink with his wheelchair. After a few failed attempts, he finally succeeded.
"Then I left everything else behind and became obsessed with the skate park," he said.
"What I loved about going to the skatepark, and what I still love, is that you can be as creative as you want to be," Fotheringham added. "You're never really bored. If you're bored, you won't get ahead."
The athlete says he "couldn't believe it" when Hot Wheels approached him about the partnership. "Having Hot Wheels do my seat was the greatest compliment ever," he said.
He hopes the toy will help change public perception of wheelchairs, showing that a medical device can also be fun and adventurous. "I think the[remote-controlled toy]is great because it really sheds a positive, fun light on something that people otherwise take way too seriously."
Gerry Cody, director of product design for Hot Wheels RC and Innovation at Mattel, said he hopes the toys will inspire children to go beyond perceived limitations.
"We're excited about our latest collaboration with Aaron 'Wheelz' Fotheringham and the introduction of our first-ever Hot Wheels R/C wheelchair toy, reinforcing our goal of inspiring children to push boundaries and chase their dreams, regardless of the personal challenges they face," Cody said in a statement shared with CNN.
"We worked closely with Aaron to ensure this product was an accurate representation of his wheelchair and a fun toy to play with. We can't wait to see all the stories that come with a first-ever unique fun toy like this ."