Inflation may have eased slightly in April, giving the Biden administration some relief from rising prices, but double-digit inflation is already a reality for some parts of the US.
The cities of Atlanta, Phoenix, Tampa and the Riverside-San Bernardino metropolitan area have all registered more than 10 percent inflation on goods compared to last year, with the Phoenix-Mesa-Scottsdale region of Arizona at the highest, at 11 percent.
The 11 percent figure for Phoenix was the highest inflation rate in the metropolitan area in Bureau of Labor Statistics data, going back 20 years.
The second highest at 10.8 percent is Atlanta, a city that has been experiencing high inflation for more than a year, when prices rose about 6 percent in April 2021.
Five other metropolitan areas have nearly double-digit inflation rates: Baltimore, Dallas, Denver, Miami, and Seattle all have inflation rates of 9 percent or higher.
Overall, prices in the country rose 0.3 percent in the month to April (on a seasonally adjusted basis), after rising 1.2 percent in March. Over the past 12 months, inflation was 8.3 percent in April, compared to 8.5 percent in March.
Increases in housing, food, air fares and new vehicle prices were the largest contributors to the overall index. The price of energy has risen by 30 percent in the past year and that of food by 9.4 percent, the largest increase in twelve months since 1981.
The metropolitan areas with the lowest inflation rates are San Francisco-Oakland, at 5 percent (up from 5.2 percent in March) and New York at 6.3 percent (up from 6.1 percent last month). All other metropolitan areas listed by the Bureau are in the 7-9 percent range.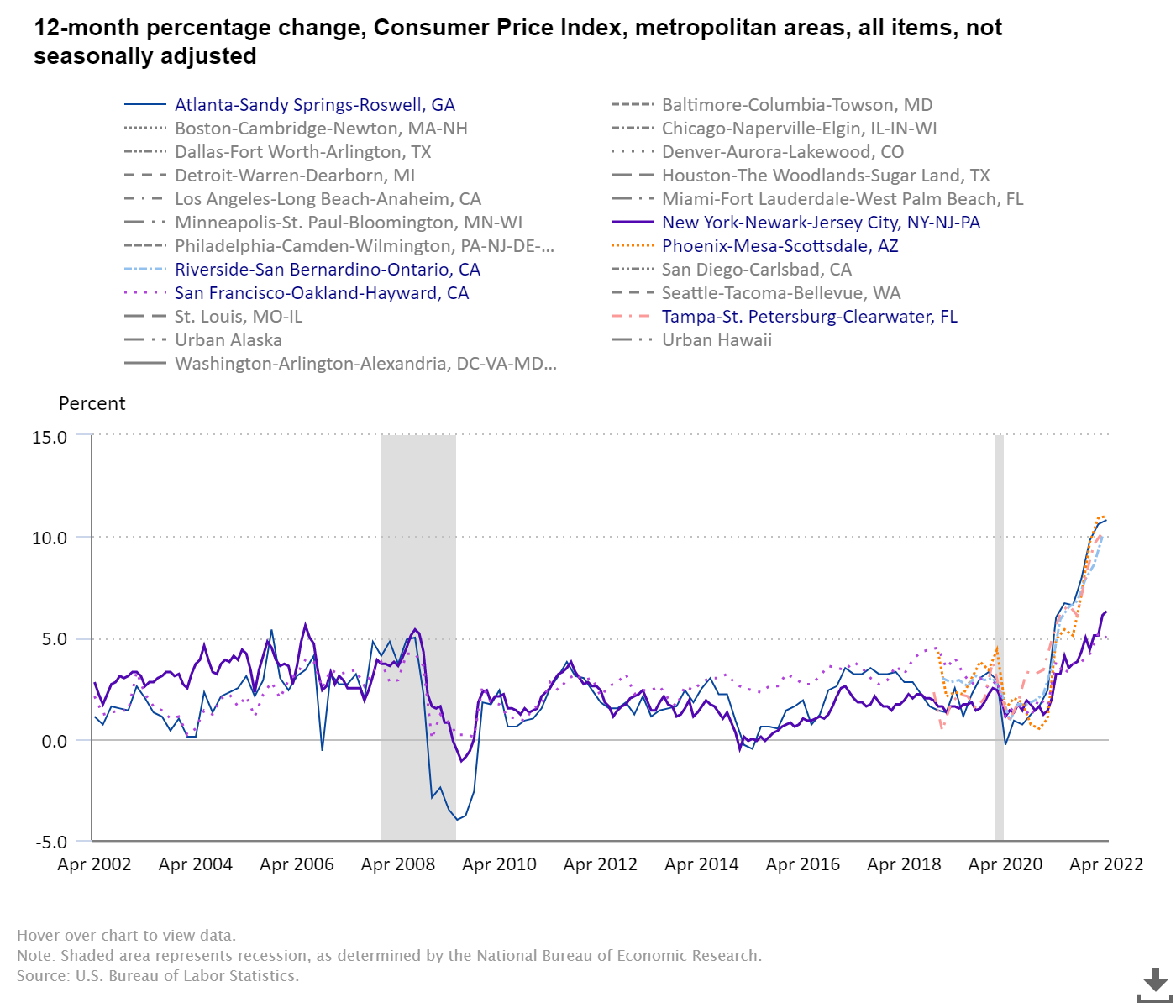 The US Federal Reserve has already raised interest rates in an effort to curb rising prices, raising rates by 50 basis points (or 0.5 percent) last week. Chairman Jerome Powell hinted that there could be two more rate hikes in 2022.
The average price of regular gasoline has now risen to more than $4 a gallon in 45 states, according to data tracked by the American Automobile Association. A year ago it was just over $4 in one state – California.
Andrew Hunter, a senior US economist at Capital Economics, said the inflation rate "marks the start of an ongoing decline" as the supply shortage should ease.
"However, there is still a long way to go before inflation returns to more acceptable levels," Eric Winograd, US economist at asset manager AB, told AP News.
Inflation concerns have hurt President Biden's approval rating, which is still below 40. "I want every American to know that I take inflation very seriously and that it is my top domestic priority," Biden said at a White House news conference on May 10.