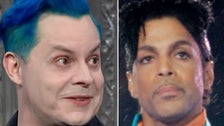 Jack White's only encounter with music legend Prince left a lasting impression.
On Wednesday's broadcast of 'The Late Show', White recalled the 'really solid advice' he received from the 'Purple Rain' singer, who died in 2016 at the age of 57.
It was, "Don't let anyone tell you how to play the guitar."
Prince spoke the words of wisdom as the pair spoke at an after party, White told host Stephen Colbert.
Colbert asked White if he followed Prince's advice.
"No. One of your sound people told me to decline sooner, so maybe —" he joked in response.
Watch White's full interview with Colbert here:
And see his performance of "What's The Trick?" on "The Late Show" here: