Melbourne Airport has made fresh calls for a relaxation of the federal mask mandate for airports and planes after a global move to drop the requirement, but epidemiologists warn that such a change would be too soon.
The European Union will no longer recommend masks at airports and on planes from next week to prevent the spread of COVID-19, although member states can still require them.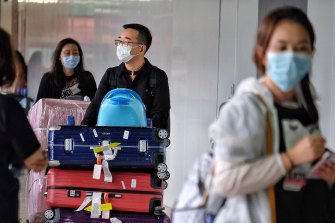 A spokesman for Melbourne Airport said they had been calling for an end to the federal mask mandate since March because of the "disconnect" in the COVID rules.
"Airports are very similar to supermarkets, shopping centers and sports stadiums, where masks are no longer necessary," the spokesperson said.
"There is currently a connection in that we fly passengers almost every weekend to the airport where masks are required, then travel to the MCG when they can mingle with up to 80,000 other people without masks."
Professor Nancy Baxter, head of the University of Melbourne's School of Population and Global Health, said airports and planes were a higher risk, and Australia's high COVID-19 transmission levels made it unwise to pass the federal requirement for masks now to lift.
"Unlike the retail environment, you're confined to a very small space in close proximity to other people on an airplane, and you're forced to sit for long periods of time," she said.
"So the risk is different, the setting is very different, and I don't think saying we've relaxed masks in retail means we need to relax the rules on airplanes. I don't think that's necessarily a meaningful argument to make. And I would say with the high transmission levels that we have now, we should probably still have masks in retail.