It was a staggering feat, a teaser of a city that had already firmly turned its back on COVID-19 and was buzzing with a level of street energy I hadn't felt in the past few secluded and anxious years.
At the risk of being labeled treacherous, the atmosphere in Sydney's CBD, beachfront and inner city eateries was extremely tempting last week. Conspicuously absent from Melbourne, the buzz in the port city was a stark and vivid reminder of what we'd lost during the pandemic.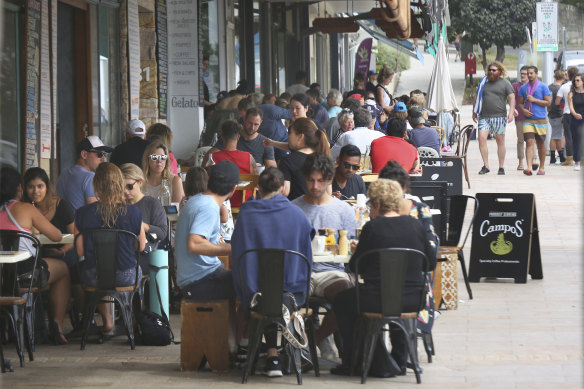 Our civic leaders, local and state governments, as well as the music, hospitality and entertainment gurus are all scratching their heads and working on ways to bring back our famous and much-copied vibe – the very essence of what defined our city.
A quick look at our neighbors, 500 miles away, can also help.
Whatever it takes, change must come, and now. If Melbourne misses the revival, if we don't find the cultural magnetism that led so many exciting creatives to live and work here, we'll struggle for years to come.
Not to be ignored, however, is the deep scar tissue. There are many in our community who need more time to fully recover. Not only because of the health and economic damage, but also because of the lost businesses, the depopulated schools and universities, the job losses and a housing market that has been seismically disrupted in both urban and rural areas.
Factor in the delayed surgery, the burnt-out health workers, the interrupted cancer treatments, the ruined hospital budgets, the canceled essential training — the full repair will take decades if we ever resume what was true in the "normal" years before the pandemic.
Add to this the endless and circular discussions about working from home or studying, the dubious benefits of hybrid meetings, the technological tyranny of Teams and Zoom. We can't ignore the empty office buildings or shops that are still closed on our high streets… but our problems run deeper than any of those statistics, no matter how serious they are.
The deepest chasm in our collective psyche is the breakdown of unity and trust.
Sometime between February 2020 and today, science was overrun with voodoo, knowledge overrun with mere opinions. We all became amateur epidemiologists and could argue with loved ones about the Reff and RATs, even though none of us had heard of either 10 minutes before.
How come some of our fellow citizens thought it was acceptable to urinate on and desecrate the Shrine of Remembrance or to don protective armor and goad and beat the police – all in the name of some distorted understanding of "freedom"?
What perverse rationalization went through the minds of those who applauded gleefully as their fellow protesters abused freedom of speech by parading makeshift gallows in front of Prime Minister Dan Andrews on the back of a flatbed trailer, circling Parliament threateningly, loud shouters blasting passersby. invited to join them sabotaging vital efforts to address a public health emergency?
Loading
We need to heal the damage to our collective sense of self—the comfort that came from knowing we live in a prosperous, coherent, and confident community that much of the world envies. Instead, there is doubt caused by the crazy fake medical advice of unqualified charlatans posing as experts, and fearful and gullible people being harassed by quacks and scammers.
Add to that the countless days of futile lawsuits, wafers from self-proclaimed bus lawyers over class actions, and the Magna Carta, all turbo-charged by cynical opportunists who proved once again that a fool and their money can be easily separated.
When the war is over, let the peace-building task begin.