Nationals leader Barnaby Joyce stood high above the Murray River, ready for the first day of the election campaign.
He was in the seat of Nicholls, the Nationals' principal land, to open a $324 million bridge, replacing an outdated crosswalk that first connected the river towns of Echuca-Moama more than a century ago.
Joyce's presence on the Victorian frontier indicated that his party was sufficiently concerned about losing a seat by the 20 percent margin he needed to bolster the vote.
"There's no such thing as a safe seat," he said, paddle steamers chugging behind him.
The focus in this federal election has focused on liberal strongholds in central Melbourne, where the "blue" independents threaten to defeat government MPs.
The coalition is also staring at serious challenges in the bush, leading to a fight to prevent seats from becoming marginal – or worse – losing them altogether.
Nicholls, which includes the central and northern Victorian towns of Echuca, Shepparton, Seymour and Yarrawonga, is a prime example.
I think it's one of the most likely to be won by an independent, it's more likely than some urban seats.

ABC election analyst Antony Green
Several circumstances have brought Murray's former seat into play: the retirement of popular incumbent National Member of Parliament Damian Drum, a prominent cashed-in independent in Rob Priestly, and the Liberals and Nationals both contesting the seat.
"I think it's one of the most likely to be won by an independent party, it's more likely than some city seats," said Antony Green, ABC's election analyst.
Priestly needs a minimum of 30 percent primary vote to win, Green says. Preferences become crucial, he says, as leakage between the coalition partners could help pick the independent.
"There's a bit of a history of liberal preferences flowing more towards National than the other way around," he says.
Once lost, it can be difficult to regain the seat – neighboring Indi elected Cathy McGowan in 2013 and is still independent three elections later.
Independent MP Suzanna Sheed also won Shepparton's state seat in 2014, the same year the major employer SPC was beaten back for aid by the Abbott government.
"People are open to the idea of ​​an independent," she says.
While voters want their fair share of spending, as evidenced by the bickering over appropriations for the new Dhungala Bridge over the Murray, it's what flows beneath that can make or break politicians.
The Goulburn Valley is one of Victoria's food bins, producing vast quantities of stone fruit, apples, tomatoes and dairy.
Water policy is vital here, with local anger lurking over the Murray-Darling Basin Plan and water buybacks.
"A lot of people make money off water," said Rod Mauger, a 66-year-old undecided voter who spoke to The Sunday Era on Wyndham Street in Shepparton this week.
"The most important thing for me is that water has to be used to actually grow food."
The potential recovery of 450 gigaliter of water from irrigators, to be returned to the environment downstream, is a major concern.
The Nationals tried to scrap the 450 gigaliter component of the plan in parliament, but lost that battle with the Liberals.
Shepparton isn't your typical election battleground, but the town is awash with advertisements that put Priestly's name at the center of voters' minds.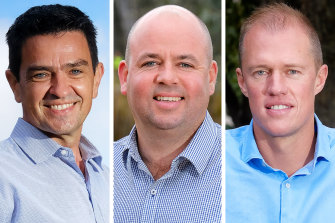 All the major candidates were visible in corflutes on fences this week, but paid marketing like billboards clearly favored the independent.
Priestly points out that his fundraising is completely grassroots, with donations from local farmers and businesses.
Trying to win over a conservative electorate, Priestly says he doesn't have the support of Simon Holmes a Court's Climate 200 fundraising vehicle or local advocacy group Voices for Nicholls.
But like city independents, he supports climate action, including a 50 percent reduction in emissions by 2030, and a new federal integrity commission.
Priestly has retired as a councilor at Greater Shepparton City and has honed his industry credentials, including his successful Gouge Linen business.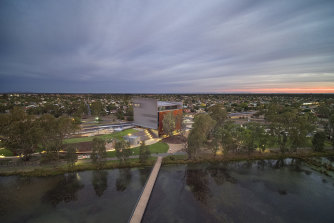 He rejects criticism that independents cause dysfunction.
"Having more people with practical experience in parliament as independents can only be good for democracy," he says.
He says the locals have been abandoned on the water: "We are still in a situation where that hangs over some heads of this community."
Indi has provided the script for a nationwide independent who will make it to the political establishment – even down to the orange branding used by Priestly.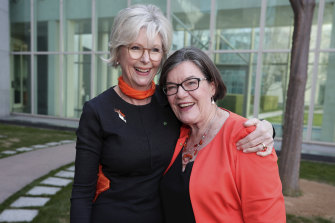 Liberal candidate Steve Brooks says he is being encouraged by those who vote early this week.
"I can count the number of negative interactions I've had on one hand," he says.
The pomegranate grower, who has worked as a commodity trader and teacher, says the Liberals previously held the seat for 20 years until 2016 and could do it again.
Brooks says the electorate urgently needs more health workers, citing the coalition's $19.5 million pledge for a new clinical health school in Shepparton.
He rejects suggestions that Nicholls is being overlooked, arguing that former Liberal MP Sharman Stone has successfully raised significant funding.
Brooks agrees that water resource management is a major concern and insists that the extra 450 gigaliter can only be recovered if there are no economic or social impacts.
Nationals candidate Sam Birrell, who resigned as chief executive of the Committee for Greater Shepparton to contest the election, believes he has a fair chance of helping scrap the 450 gigaliter from the plan.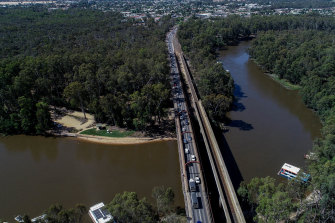 A poster at his campaign office reads: 'KEEP OUR WATER HERE'.
"I think we can negotiate it in a coalition government and that's what I'll try to do," he says.
Birrell rejects any suggestion that an independent could achieve the same result as "farce". However, he acknowledges that voters are frustrated.
"I understand that," he says. "But we have to find a way to run the country."
Although Joyce has visited several times, the Nationals leader does not appear on local campaign material. Birrell says Joyce is not a hindrance to the vote.
"If he comes here to make announcements and help me deliver things that make the lives of the people of Nicholls better, that's an advantage."
Meanwhile, another regional independent party in southwest Victoria hopes to capitalize on the major party's malaise.
Comedian and former Triple J radio host Alex Dyson is up against Liberal Wannon MP Dan Tehan, who has a 10 percent margin.
Dyson collected 10 percent in 2019 after his video performing a dance before jumping off a pier wearing a suit went viral.
"My first campaign was small, but I had young people behind me," he says.
This time Dyson is serious. Stronger action against climate change, integrity in politics and addressing regional housing shortages are resonating with voters, he says.
He is backed by Climate 200, which he says will contribute about $60,000. He has also raised more than $20,000 locally and gives a lot of his own money.
While Wannon isn't marginal, Dyson thinks he can win, especially if he can at least double his primary vote.
But Tehan, the trade, tourism and investment minister in the Morrison administration, seems relaxed about the challenge. He says he defeated five independents in 2010.
"This is something that has been going on since the federation and will continue," he says. "Isn't it great? We live in the best democracy in the world."
Cut through the noise of the federal election campaign with news, views and expert analysis from Jacqueline Maley. Sign up here for our Australia Votes 2022 newsletter.