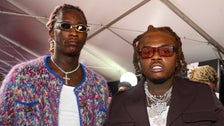 Atlanta rapper Gunna surrendered to authorities on Wednesday and was jailed on charges of racketeering.
The group is charged with gang-related crimes and violations of the Georgian criminal extortion law, including committing multiple murders, shootings and carjackings over the past ten years.
Young Thug, whose real name is Jeffery Williams, was arrested Monday. Prosecutors say he co-founded the street gang Young Slime Life, which is responsible for the violence.
According to the indictment, Williams and Kitchens had methamphetamine, hydrocodone and marijuana in 2017 that they planned to distribute, and the following year were involved in a traffic stop where one of the vehicles had numerous weapons with large-capacity magazines, including an AK- 47.
"I'll tell you the answer to any allegation," Steel said. "Mr. Williams has committed no crime and we will fight to my last drop of blood to clear him."