Behind the glitter and glamor of the Melbourne Fashion Festival is a simmering uncomfortable undercurrent. Many of the stunning designs debuted on the catwalk will within weeks have thousands of fast fashion copies appear in large, global chains at a fraction of the cost.
These garments are not "inspired" by the trends of our celebrated Australian designers, they are flagrant breaches of copyright harming one of the industries who has been among the hardest hit economically during the pandemic. No one was buying party dresses during lockdown.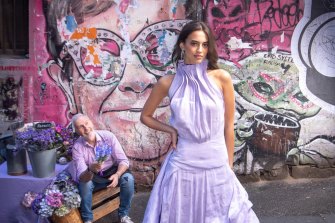 In addition, these imitations are produced in factories in developing nations, in appalling working conditions where workers are barely paid a living wage.
Anti-slavery advocate Grace Forrest has recently begun a campaign fighting for this often-forgotten group. Shockingly, this fast-fashion garment industry is the second largest contributor to modern slavery today – and those slaves are mainly women and children.
As troubling is the fact that fast fashion is now the second largest contributor to CO2 emissions, second only to the oil industry. While we all worry about offsetting our carbon footprint when we fly, your luggage is actually causing more harm to the planet.
Textiles are no longer produced in environmentally friendly ways and the water used in production, estimated to be 95 liters per garment, is mind-blowing, particularly given much of the world is currently experiencing longer periods of drought due to climate change.
The luxury fashion industry over the last two years have become hyper focused on sustainability. Designers like Stella McCartney, and Australian labels Zimmermann, Aje and Alemais have pioneered changing the outdated practices that have led to huge environmental harm.
However, there is one problem – fast fashion cannot make these changes. Their business model simply does not work with slow textiles, well-paid manufacturing and making clothes that last.