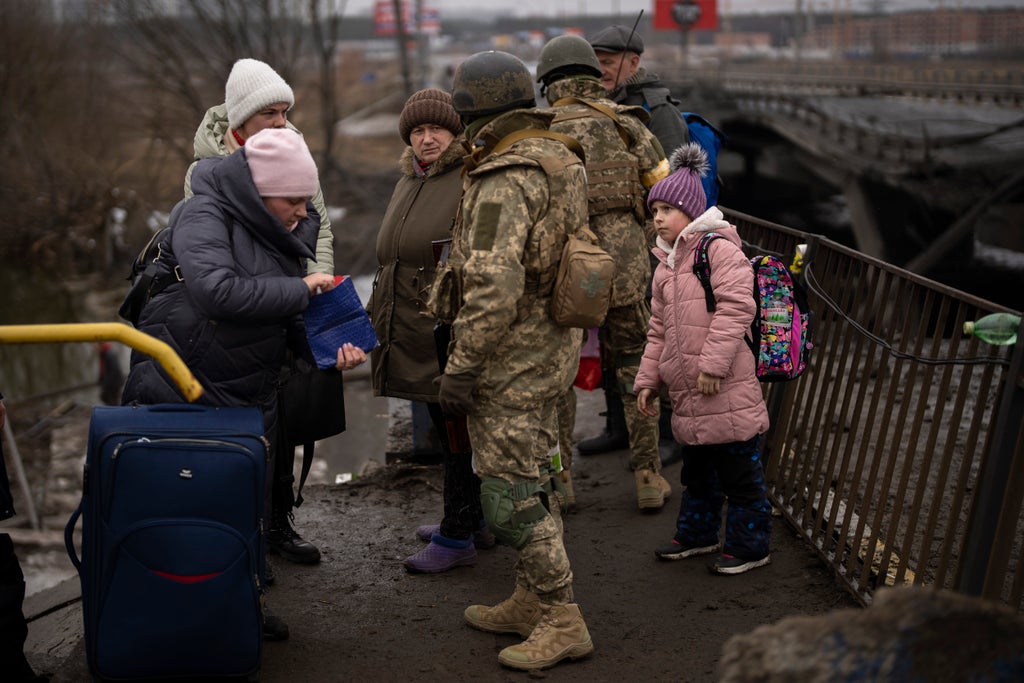 Building on fire in shelling attack in Kharkiv, rescuers work on the spot
Ukrainian president Volodymyr Zelensky has said his country's armed forces are holding off the Russian advance.
"We have nothing to lose but our own freedom," he said in his latest video on Thursday.
His statement came after Russia claimed to have taken "complete control" of the Black Sea port of Kherson. If this is accurate, it would be the first major city to fall during Putin's war.
Elsewhere, the Kremlin's forces continue to besiege the eastern Ukrainian city of Mariupol, with its council warning that its inhabitants no longer have access to water, heating and power.
In a statement, Mariupol city council compared the tactic of the siege to the Nazis blockage of Leningrad in the Second World War, which resulted in millions of deaths.
"Deliberately, for seven days, they have been destroying the city's critical life-support infrastructure. We have no light, water or heat again," it said of the Russian armed forces.
More than a million Ukrainians have so far fled the conflict, while the International Criminal Court (ICC) has launched an investigation into potential war crimes committed by Russia.
1646310646
Google Maps suspends reviews as Russian landmarks flooded with photos of captured soldiers and news clips
Google has blocked users leaving reviews on Maps for places in Russia, Ukraine, and Belarus.
Tripadvisor has taken the same action on its own platform, as users were posting political statements to the 'reviews' sections of businesses and restaurants in those countries to try and communicate across borders in the wake of Russia's invasion of Ukraine.
The idea was spread by a Twitter account representing the hacking group Anonymous earlier this week, as well as Ukraine's 'IT Army' – a group trying to counter Russian propaganda.
Joe MiddletonMarch 3, 2022 12:30 pm
1646309551
Russia will be 'more direct', warns Nato official
Russa will be more direct after its initial plan to capture Kyiv quickly was stymied, an unnamed Nato official has told CNN.
"We're seeing a change in strategy from the Russian side…They're less focused on encircling cities, more concentrated trying to go in," the official said.
†[Heavier] bombardment is a side effect of that shift," they added.
Rory Sullivan3 Mar 2022 12:12
1646308807
Hours after launching a formal investigation into Russia's invasion of Ukraine, a team from the International Criminal Court (ICC) has left to amass evidence in the region, its top prosecutor has said.
"Yesterday I formulated a team and today they are moving to the region," prosecutor Karim Khan said.
His office will examine potential war crimes, crimes against humanity and genocide, he added.
Rory SullivanMarch 3, 2022 12:00
1646308147
Formula 1 terminates contract with Russian Grand Prix
In the latest blow for Russian sport, Formula 1 have officially stripped the country of its Grand Prix.
The decision comes after this year's Champions League final was moved from St Petersburg to Paris due to the Russian invasion of Ukraine.
"Formula 1 can confirm it has terminated its contract with the Russian Grand Prix promoter, meaning Russia will not have a race in the future," an F1 statement confirmed on Thursday.
Rory SullivanMarch 3, 2022 11:49 am
1646307487
'Now is not the time for playing guitars, it's time to take the rifles,' says Ukrainian musician
Andriy Khlyvnyuk, a well-known Ukrainian musician, dropped his children at their grandparents' house, before enlisting to fight for his country.
"Now [is] not [the] time for playing guitars. It's time to take the rifles," the 42-year-old told Euronews†
My colleague Peony Hirwanic has more details:
Rory SullivanMarch 3, 2022 11:38
1646306973
Crew member dead after Bangladesh-owned ship struck in Ukraine
One crew member on a Bangladeshi-owned cargo ship trapped in a Ukrainian port of Olvia has died after it was struck by a projectile.
"The ship came under attack and one engineer was killed," Pijush Dutta, executive director of Bangladesh Shipping Corp, told Reuters†
"It was not clear whether it was a bomb or missile or which side launched the attack. The other 28 crewmen are unharmed," he said.
Efforts are underway to rescue the rest of the crew.
Rory Sullivan3 Mar 2022 11:29
1646306385
Situation in Kyiv 'difficult but under control', says Klitschko
The situation in Kyiv is "difficult but under control", the city's mayor has said.
Speaking on Thursday, Vitali Klitschko said there were no casualties in the capital overnight.
Explosions heard above Kyiv were caused by Ukrainian air defenses hitting incoming Russian missiles, he added.
Rory SullivanMarch 3, 2022 11:19
1646305807
World must 'cripple' Russian economy, says Truss
The Russian economy must be devastated to bring an end to the war against Ukraine, the British foreign secretary has said.
During a news conference in Lithuania, Liz Truss said: "We need to make sure…that the Russian economy is crippled so it is unable to continue to fund Putin and the war machine".
Rory SullivanMarch 3, 2022 11:10
1646305325
Germany to send more weapons to Ukraine, says Kuleba
Germany will send more weapons to Ukraine to help it fight the Russians, Ukrainian foreign minister Dmyro Kuleba has said.
He did not specify which weapons would be sent nor when they would arrive.
Rory SullivanMarch 3, 2022 11:02 am
1646305207
Ask an expert questions on Russian invasion of Ukraine
At 3pm this afternoon, Mary Dejevsky, an expert on Russian politics, will answer questions from our readers about Putin's war in Ukraine.
Don't miss this opportunity. Sign up below:
Rory SullivanMarch 3, 2022 11:00