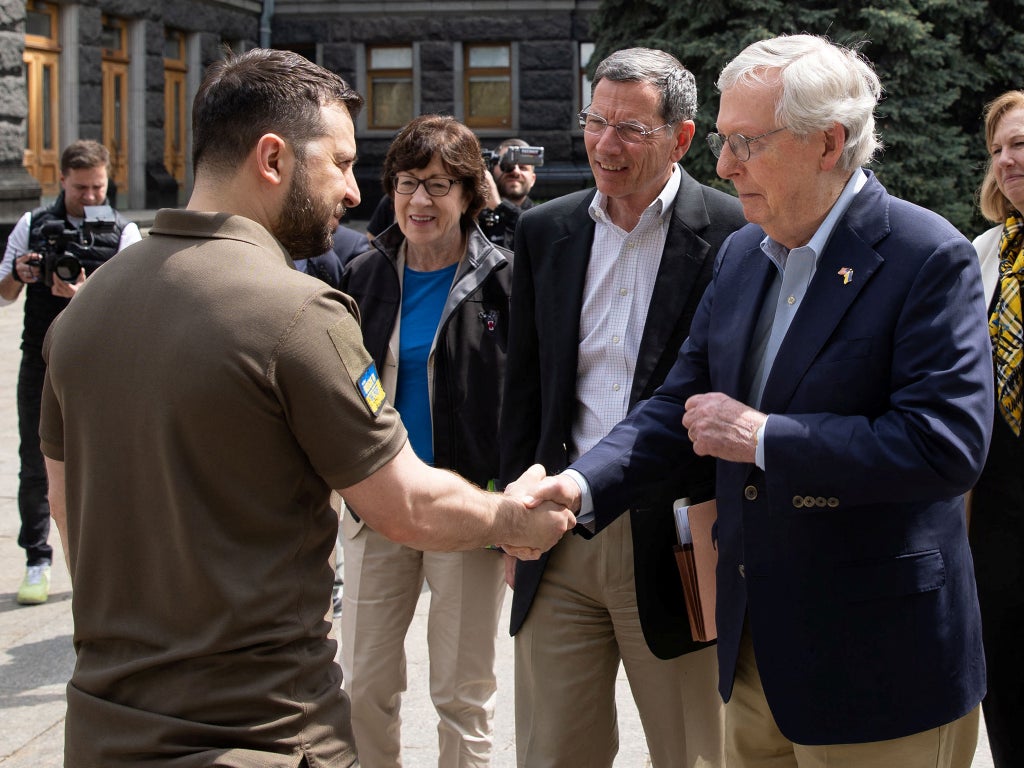 Senate GOP delegation meets with Zelensky in Ukraine
Ukrainian band Kalush Orchestra dedicated its Eurovision victory to all Ukrainians and urged millions in the audience to help the battle-ravaged country.
"Please help Ukraine, Mariupol. Help Azovstal now?" The band's frontman, Oleg Psiuk, pleads for people to free hundreds of Ukrainian fighters trapped in the steel mill.
Volodymyr Zelensky, in a meeting with US senators on Saturday, asked for official recognition of Russia as a "terrorist state".
"I expressed my gratitude for the historic decision to renew the Lend Lease program. I have called for the official recognition of Russia as a terrorist state," Zelensky said in his overnight address.
Earlier, a Russian defense chief warned Britain and the US again about Moscow's new arsenal of intercontinental ballistic missiles.
The RS-28 Sarmat, or Satan-2, hypersonic nuclear missile could hit Britain in just "200 seconds," said Russian Defense Commission deputy chairman Aleksey Zhurvlyov.
1652595267
Britain says Russia's Donbas offensive 'has lost momentum'
The Russian offensive in Ukraine's Donbas region "has lost momentum and is significantly behind schedule," British military intelligence said early Sunday.
"Under the current circumstances, it is unlikely that Russia will drastically accelerate its advance in the next 30 days," the British military said in a regular Twitter bulletin.
On Friday, Ukrainian troops prevented an attempt to cross the Russian River in the Donbas, an eastern region encompassing the Luhansk and Donetsk regions that was the center of the war.
Thomas KingsleyMay 15, 2022 07:14
1652593904
Russian missile hits military infrastructure in Lviv
The military structure in Lviv in western Ukraine was attacked by a Russian missile strike early Sunday, officials said.
The attack was confirmed by the governor of Lviv, Maxim Kozitsky.
He added that there is no information about the dead or injured in the attack.
"The extent of the destruction is being clarified," the governor said.
Arpan RaiMay 15, 2022 06:51
1652593879
Locals fear returning to battered Kharkov villages despite Russian retreat
Even after Russian troops have been forced out of Kharkov, families who have left villages in the main Ukrainian city are finding it difficult to return amid threats of rape and death.
Like Denis Kozmenko who had to leave within hours with his young family after witnessing a young mother being dragged away to be raped by a Russian soldier. She was hiding in a school when air raids ravaged the region.
Kozmenko realized that the worst could come for his family. So he decided to move his wife and daughter out of the village.
the independentDefense and Security Editor Kim Sengupta has the full report here:
Arpan RaiMay 15, 2022 06:51
1652591394
A Ukrainian photographer's struggle against Russian propaganda
For photographers like Alina Smutko, the difficult choice of fleeing or staying behind homeland Ukraine was not the scenario they had envisioned. But when it came to making a decision, it wasn't that hard.
She decided she had to stay behind and fight with what she had.
Alina is now documenting the crisis, herself in grave danger, but she hopes photographing the war will tell the world what is happening in Ukraine and said she wants her work to "say against Russian propaganda".
Her world was different before Russia sent its troops on the night of February 24. Previously, her work focused on politics, sports and social justice. Her work has taken her to many areas of Ukraine, including the disputed Russian-occupied areas of Crimea, Luhansk and Donetsk.
Now, in the shoes of a war photographer, she spends her days recording stories of innocent people affected by bombing, refugees fleeing and charities trying to provide aid.
Read the full story here:
Arpan RaiMay 15, 2022 06:09
1652589460
Song Contest: Ukrainian band Kalush Orchestra wins Eurovision Song Contest
Ukrainian band Kaulsh Orchestra won the Eurovision Song Championship on Sunday for their song "Stefania" in a popular vote for the country teetering under the Russian-led invasion.
In their speech, the band members called on millions of audiences to help the battle-stricken regions of the country.
"Help Azovstal, right now,? The band's frontman, Oleg Psiuk, said while begging people to free hundreds of Ukrainian fighters trapped in the steel mill.
He also thanked the Ukrainian diaspora and "and everyone around the world who voted for Ukraine. … The victory is very important for Ukraine. Especially this year."
Ukrainian President Volodymyr Zelensky praised the band's victory, saying the country "we will do our best" to host the match next year in a battle-stricken Mariupol.
"Ukrainian Mariupol," he said, adding: "free, peaceful, rebuilt!"
"I am sure that our victorious chord in the battle with the enemy is not far off," said Mr. Zelenskyy.
Arpan RaiMay 15, 2022 05:37
1652588271
Indian embassy in Kiev resumes after two months
Officials from India's foreign ministry said they are resuming the country's embassy activities in Kiev after more than two months.
"The Indian embassy in Ukraine, which was operating temporarily from Warsaw (Poland), was set to resume operations in Kiev on May 17, 202," the ministry said in a statement. India closed its embassy in Kiev as Russian attack on Kiev increased after the invasion. India had temporarily moved to Warsaw on March 13.
Arpan RaiMay 15, 2022 05:17
1652587489
Russian troops depart from around Kharkiv, crush Donetsk in the east
Russian troops are moving away from Kharkov after weeks of bombing the main and second largest Ukrainian city, Ukrainian army officials said Saturday.
However, the attack in the eastern part of the country has intensified as Russia redeploys its army in the besieged country.
The troops are withdrawing from northeast Kharkov and instead guard supply routes, officials said.
In addition, mortar, artillery and air strikes were carried out in the eastern province of Donetsk to "exhaust Ukrainian troops and destroy fortifications".
Ukraine was entering "a new, protracted phase of the war," Defense Minister Oleksii Reznikov warned.
Arpan RaiMay 15, 2022 05:04
1652586125
Antony Blinken reaches Berlin to meet NATO partners
US Secretary of State Antony Blinken reached Berlin early on Sunday ahead of his meeting with NATO partners about the ongoing conflict in Ukraine.
"I have arrived in Berlin where I will informally meet with NATO foreign ministers to discuss our alliance and continued action to address Russia's unprovoked aggression against Ukraine," the top US official said on Twitter.
Arpan RaiMay 15, 2022 04:42
1652585592
Zelensky Calls for Recognition of Russia as a 'Terrorist State' with Mitchell McConnell
Volodymyr Zelensky said he has asked for official recognition of Russia as a terrorist state as Ukraine has crossed the 80th day of the Kremlin invasion, meeting with US senators on Saturday.
"We discussed several areas of support for our state, including defensive and financial. As well as tightening sanctions against Russia. I expressed my gratitude for the historic decision to renew the Lend Lease program. I have called for the official recognition of Russia as a terrorist state," Zelensky said.
He added that the talks between Ukraine and the US led by Republican minority leader Mitchell McConnell in Kiev have demonstrated "the strength of the bipartisan support for our state, the strength of the ties between the Ukrainian and American nations".
One of the topics discussed was food security, as wheat supplies from Europe remain at risk from the conflict.
"More and more countries around the world are realizing that by blocking the Black Sea from us and continuing this war, Russia is putting dozens of other countries at risk of a price crisis in the food market and even famine. This is an additional incentive for our anti-war coalition to act more decisively together," the Ukrainian leader said.
He also sought more support for the beleaguered country "especially with weapons – means working to prevent global famine."
The sooner we liberate our country and guarantee the security of Ukraine, the sooner the normal state of the food market can be restored, he said.
Arpan RaiMay 15, 2022 04:33
1652583600
Marjorie Taylor Greene mocked for saying GOP's visit to Kiev proves Ukraine is not dangerous
Marjorie Taylor Greene has been criticized online for claiming that a video of US lawmakers visiting Ukrainian President Volodymyr Zelensky proves the country is safe because a Republican delegation did not wear body armor as they traveled through Kiev.
"Watch out for US elected politicians like [House Speaker Nancy Pelosi] and [Senate Minority Leader Mitch McConnell] can visit Zelensky in Ukraine without flak jackets/helmets or any fear of the threat of war, while eagerly giving billions to fund their proxy war with Russia," the Georgian Republican wrote on Twitter on Saturday.
"If conditions in Ukraine were so severe that the US sent $54 billion, our top-ranking leaders would not be able to leave," she added.
The comments quickly came in for scrutiny and social media jokes.
Joe Middleton15 May 2022 04:00