Unverified video shows police officers bundling the man in a vehicle and filling it with petrol
Protests broke out in the Brazilian city of Umbauba on Thursday after the death of a man detained by police. Video footage shows police pushing the man into the trunk of a vehicle and filling it with gasoline before appearing to stop moving. The police say he "got sick" and died on the way to the police station.
Protesters erected signs that read: "Justice" and blocked road traffic with burning barricades, in an outburst of anger after the death of Genivaldo de Jesus Santos, 38, on Wednesday.
A series of graphic video clips shared on social media shows two federal highway patrol officers trying to stop Santos, followed by the officers pushing the man into the trunk of their SUV. A last clip shows the officers holding the trunk closed as it fills with a thick white smoke or gas. The man's legs, which protrude from the torso, stop moving after about a minute.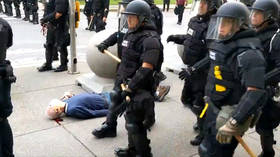 An autopsy report on Thursday confirmed Santos died of suffocation and acute respiratory failure, Globo TV reported. The autopsy did not directly blame the officers for the killing of Santos.
According to the Federal Highway Police, Santos "active resistance" the officers, inciting them "immobilization techniques" at him. The police said the man was "got sick" on the way back to the police station and later died in hospital. An internal investigation has been launched into the incident.
However, Santos' family said the deceased suffered from schizophrenia and became irritable at a traffic stop. Santos' cousin said he tried to inform officers that his uncle was mentally ill, but police still used pepper spray and physical assault. It is not clear why the man, who was riding a motorcycle, was arrested in the first place.
'It was a torture session' Santos' cousin told local media, describing the public nature of the incident "as if [the police] mock the whole population."
The death of Santos, who is black, has been compared by activists to the death of George Floyd in the US city of Minneapolis in May 2020. Floyd's death, for which a Minneapolis police officer was convicted of murder, occurred two years ago the day before Santos' and began a summer of sometimes violent 'Black Lives Matter' protests in the US.
You can share this story on social media: