On a recent Wednesday, while most scientists around the world were conducting their research, we stepped out of our day-to-day jobs to engage in a more direct form of communication.
Together with over 20 others from Scientists for Extinction Rebellion and aided in our efforts by Doctors for Extinction Rebellion, we pasted scientific articles to the UK Government's Department of Business, Energy and Industrial Strategy (BEIS). A group of us clung to the building and nine scientists were arrested.
This kind of action may seem extreme to a scientist, but these are not ordinary times. As most members of the British public now recognize, tackling the climate crisis requires drastic changes in society. In 2019, the UK Parliament itself declared a climate emergency – and urgent action is needed in an emergency.
Seemingly endless academic papers and reports emphasize the need for immediate and rapid decarbonisation of the global economy if we are to avoid climate change so severe it risks the collapse of human civilization. The International Energy Agency, a respected policy advisory body to countries around the world, warned in 2021 that "if governments take the climate crisis seriously, there can be no new investment in oil, gas and coal from now – from this year on".
Prime Minister Boris Johnson has stated that "it is time for us to heed the scientists' warnings" about the climate emergency. But despite this, the British government chooses not to phase out the fossil fuel industry, but instead… expand it†
The government recently published its energy security strategy. However, instead of focusing on home insulation, energy efficiency and onshore wind, as most experts suggest, the strategy promotes the expansion of oil and gas production.
Such measures do little to address the pressing problems of rising fuel bills or heavy imports of Russian oil and coal. And as a self-proclaimed leader in global climate action, doubling up on fossil fuels in the UK also sends a dangerous message to the rest of the world.
---
Read more: Why the UK's 'cherished free market economy' won't reach net zero


---
Evidence alone is easily ignored
When choosing between fossil fuels and a habitable planet, the government has opted for oil and gas. For scientists who have devoted their lives to research, this is difficult to accept. Many of us do our work in the belief that if we provide scientific information to decision-makers, they will use it to make wise decisions in the public interest.
Yet, despite decades of increasingly harsh warnings, the global response to the climate crisis shows it to be naive. The reason is as simple as it is clear: governments are responding not to the science of these matters, but to the corporate interests that invest so heavily in political donations and lobbying.
Scientists have to face a difficult truth that is not easy for those of us most comfortable working diligently on experiments and journal articles: proof alone, even when it is expertly communicated, is very easily ignored by those who do not want it. to belong.
If we want to contribute to the transition from fossil fuels that the world so urgently needs, we will be much harder to ignore. This does not mean ignoring the evidence or giving up our integrity: quite the contrary. We must treat the scientific warnings about the climate crisis with the seriousness they deserve.
Get hard to ignore
History suggests that one of the most powerful ways to become difficult to ignore — and one of the few options available to those who don't have deep pockets or the ear of politicians — may be through nonviolent civil disobedience, the refusal to pass certain laws. to draw public and media attention to an unjust situation.
From universal suffrage to civil rights for people of color and action against the AIDS pandemic, many of the most progressive social changes of the 20th century were brought about in this way. Many would probably agree that such actions are morally justified in a planetary emergency.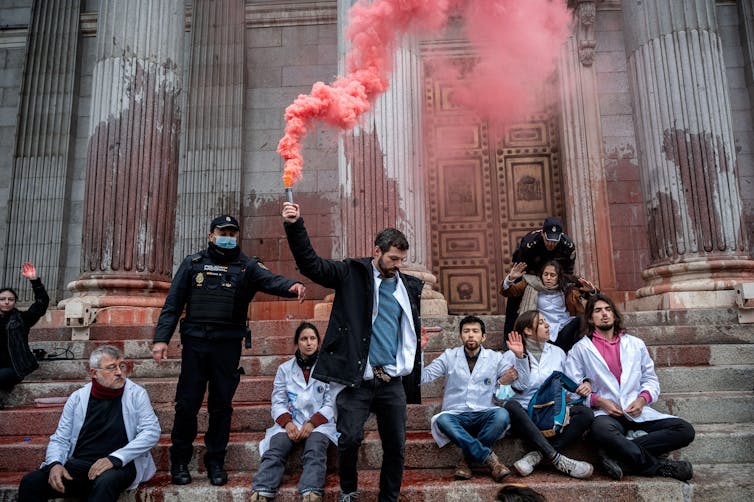 The recent rise of environmental civil disobedience movements around the world, led by Extinction Rebellion and the Greta Thunberg-inspired youth strikes, has had a huge impact on changing the global conversation about climate. These moves have been linked to an unprecedented wave of public concern and awareness about the climate crisis.
The scientists arrested Wednesday included an energy policy expert, an air pollution specialist, three ecologists and two psychologists, at all career stages from junior researchers to established professors. Some are working on the planetary crisis itself, others on our societal responses to it, but none of us took our actions lightly.
Our understanding of our planetary danger obliges us to take action to sound the alarm, even if it means jeopardizing our civil liberties. And we are not alone. On April 6, more than 1,200 scientists in 26 countries took part in a global Scientist Rebellion, including pasting scientific papers at the British headquarters of oil giant Shell.
Civil disobedience does not always need a particular target to be effective, as its main purpose is to raise the alarm through media and generate wider public attention. Extinction Rebellion protests, for example, have targeted fossil fuel infrastructure, media and financial institutions, and airports used by private jets, in addition to the general disruption caused by roadblocks.
But we went to BEIS because, as a government department responsible for climate change, it should be leading the transition from fossil fuels. By enabling and promoting new extraction of fossil fuels, it does just the opposite.
Recent law violations by scientists may seem radical, but the world's top diplomat disagrees. Publishing the latest IPCC report, UN Secretary-General António Guterres said: "Climate activists are sometimes portrayed as dangerous radicals. But the really dangerous radicals are the countries that increase fossil fuel production."
He couldn't have said it more clearly: While we scientists may have broken the law, it's the government that puts us all in danger.