To recognize women's health during the month of May, Dignity Health Medical Groups will share insights from four physicians from different specialties on topics critical to women's health.
First up in our Women's Health Month series is Anila Chadha, MD, with Dignity Health Medical Group – Bakersfield. dr. Chadha is a general practitioner and discusses the importance of annual screenings and preventive care.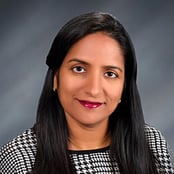 What are important screenings that women of different ages should definitely not skip?
Dr Anila Chadha: Step one is knowing the different screening tests available to women; step two is making sure you get them done at the right time in your life. Early detection of a medical problem, including cancer, can be life-saving and reduce the risk of complications.
Important showings and recommended ages:
Cervical cancer screening with Pap smear – start at age 21 and repeat every 3 years
Breast cancer screening with mammogram – screenings should be done annually from the age of 40
Screening for colorectal cancer – start at age 45 with colonoscopy or stool test; intervals of repeated tests depend on previous results and personal risk factors
Lung cancer screening — for women aged 50-80 with a smoking history of 20 pack years* or who have quit smoking within the last 15 years. *A "pack year" is a measure of smoking exposure and refers to smoking one pack of cigarettes per day for the past 20 years.
Osteoporosis screening – from age 65 with an annual bone measurement test.
Are there often overlooked health issues that disproportionately affect women compared to men?
Dr Anila Chadha: Coronary artery disease, caused by plaque buildup in the arteries that supply the heart, is the leading cause of death in women. In women, typical illness symptoms such as chest pain may instead present as upper back pain, jaw pain, shortness of breath, and sweating. These symptoms can often be overlooked and if left undiagnosed, they can eventually lead to a heart attack.
The incidence of urinary incontinence – or loss of bladder control – in women is much higher than in men and is not often talked about. Treatment for this condition is feasible and can range from medication to surgery. Women should be sure to bring up possible symptoms of urinary incontinence at their annual wellness appointments.
Finally, attention deficit hyperactivity disorder (ADHD) is less commonly diagnosed in young girls than boys, mostly because the symptoms of ADHD present differently in girls. While boys may have more physically aggressive symptoms, girls with ADHD are more likely to show a lack of concentration or low self-esteem. These symptoms in girls can be neglected and girls therefore deprive girls of treatment, leading to further mental health problems in adulthood.
Contact your primary care physician to discuss and schedule annual screenings, or consult our "Find a Doctor" tool to locate a Dignity Health Medical Group doctor near you.
Keep checking the Dignity Health Medical Groups blog for more Women's Health Month reminders throughout the month.