HOLD ACHILLES ★★½
Carriageworks, January 19
Until January 22
It was too good to last. The run of gold standard Sydney Festival shows was once supposed to end, and it comes to a shuddering halt Holding Achilles. The bear puppet is good, the ships are wonderful and the aerial work – including the stylized combat – certainly has its moments. But this ambitious production seems so preoccupied with presentation that it forgot the basics: story, characterization, dialogue and acting.
The latter is usually just as wooden as the famous horse mentioned at the end. The blame for this can hardly be placed entirely on the actors' feet, however, as the dialogue is wafer-thin and akin to the worst you'll find in soap operas: all false notes, platitudes and catchphrases, with a complete lack of subtlety, let alone. ​subtext. The baldness and melodrama are illustrated when Achilles asks, "How long will this cycle of violence continue?"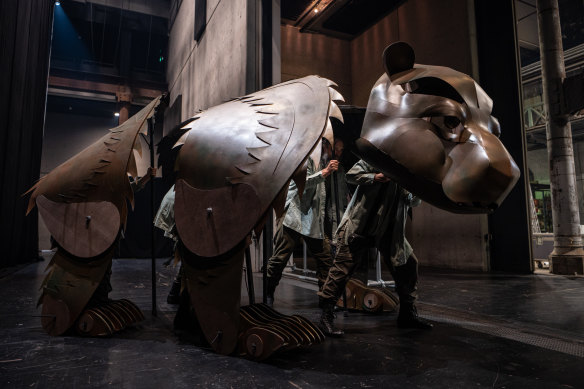 Occasionally stunning performances can obscure amateur writing, but not here. No emotion really rings true until near the end, when Patroclus is slain and Stephen Madsen's Achilles unleashes a shriek of fear and rage that reverberates across the room, drawing you into the heart of the moment. If only more of the show could have this confrontational authenticity.
Don't go looking for Homer in this tale of love between Achilles and Patroclus (Karl Richmond), as it is only very loosely based on The Iliad. Essentially, the creators, director David Morton and motion director Josh Thomson, have put the spotlight on that relationship (with Patroclus portrayed as the younger man), populating the shadows around their love with such versions of Odysseus, Agamemnon, Hector, and the rest as they thought it suited their purposes.
To be fair, these Homeric legends have almost universally been badly served by theatre, film and fiction. When even the gifted Stephen Fry couldn't make his novel Troy convincingly, breathing life into epic characters without them speaking madness to each other is clearly a challenge.
The show, which has its world premiere here, is a collaboration between aerial specialists Legs On The Wall and Dead Puppet Society. Consequently, its strength lies in its imagery, even if it is far from the best work of either company.