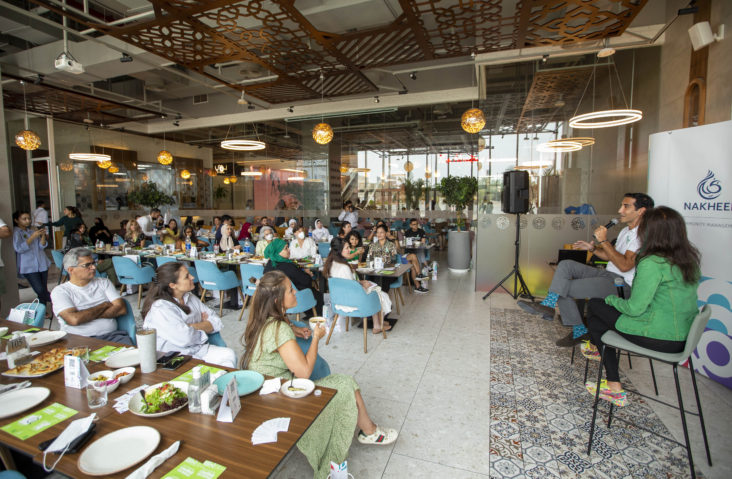 LiveWell with Nakheel hosted its second community health & wellness event at Loui Restaurant and Café in Circle Mall, where Functional Medicine Practitioner Dr.Nas and LiveWell founder Irina Sharma engaged the public in an informative discussion about gut health.
The lecture discussed the relevance of gut health for good immunity, how this can be supported with improved lifestyle choices and nutrition to achieve an ideal balance and how eating for your gut supports digestion and prevents possible negative symptoms. The guests enjoyed Lebanese gut-strengthening bites and five lucky guests won a personal consultation with Dr.Nas.
The top takeaways for Gut Talk live longer:
What we eat and how we eat affects our entire system. In addition to fueling our bodies, food can have a profound effect on other biological systems, including our mental and hormonal health.
Exercise, good quality sleep and dealing with stress are the keys to good gut health.
Gratitude affects our brains and our health, with positive emotions sending strong signals to our gut microbiome, allowing the most beneficial bacteria to thrive.
Each month, LiveWell with Nakheel invites a renowned medical expert to interact with guests and engage them in a wide variety of health and wellness topics. Check https://livewell.nakheelcommunities.com for future events and activities, open to everyone and free.