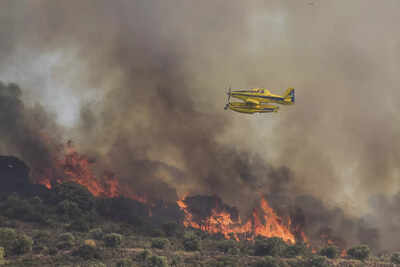 A firefighting plane flies over a forest fire in the Chiloeches area of ​​Spain's Guadalajara province (File photo)
MADRID: According to the local fire service, more than 4,000 hectares of land have been destroyed by seven forest fires that are still burning in the autonomous community of Galicia in northwestern Spain.
At least 2,000 hectares have so far been destroyed by the largest fire near the city of A Coruna. There were no casualties, but the flames have evacuated 700 people from a campsite in the A Pobra do Caraminal, Xinhua . news agency reported.
The fire in the province of Ourense has burned down 600 hectares in 10 different places, but has been brought under control.
According to local media, most of the fires were started deliberately.
The leader of the main opposition party (PP) Alberto Nunez Feijoowho is also the former chairman of the Regional Government of Galiciacalled for the "full weight of the law" on those responsible for the fires.
According to data collected by the Copernicus satellite on Saturday, about 230,000 hectares of land were burned in wildfires in the driest summer ever recorded in Spain this year.
The central government on Monday approved a new law to help prevent future fires, including measures such as increasing year-round vigilance and removing undergrowth to prevent flames from spreading quickly.
FOLLOW US ON SOCIAL MEDIA
FacebookTwitterInstagramKOO APPYOUTUBE